Chapter 10: Late Twentieth Century and Postmodernism

Jessica Hagedorn
1949-

© Paul Reuben October 21, 2016 E-Mail
Outside Link: | Modern American Poetry: JH |
Page Links: | Primary Works | Selected Bibliography 1980-Present | MLA Style Citation of this Web Page |
Site Links: | Chap. 10: Index | Alphabetical List | Table Of Contents | Home Page |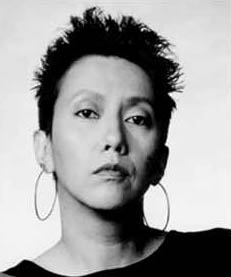 Source: Asian American Film Features: JH
Contributed by Patricia Bostian, Central Piedmont Community College
Born in the Philippines, Jessica Tarahata Hagedorn immigrated to America in her teens. Her plays, poems, and novels reflect the grittier aspects of life for Filipino women in both the Philippines and in the United States.
Four Young Women: Poems by Jessica Tarahata Hagedorn, Alice Karle, Barbara Szerlip, and Carol Tinker. Ed. Kenneth Rexroth. 1973. PS589 R48
Dangerous Music. San Francisco: Momo's Press, 1975.
Pet Food and Tropical Apparitions. San Francisco: Momo's Press, 1981.
"Ethnic Theater." MELUS 16.3 (Fall 1989-1990): 11-15.
Dogeaters. New York: Pantheon, 1990. PS3558 .A3228 D64
Two Stories. Minneapolis: Coffee House Pr., 1992. Danger and Beauty. New York: Penguin, 1993.
The Gangster of Love. Boston: Houghton Mifflin, 1996. Dream Jungle. New York: Viking, 2003.
Hagedorn, Jessica, Thulani Nkabinda, and Ntozake Shange. Where the Mississippi Meets the Amazon. Produced in New York City, 1977.
Hagedorn, Jessica, and Marissa Roth. Burning Heart: A Portrait of the Philippines. New York: Rizzoli. 1999.
Hagedorn, Jessica, Ed. Charlie Chan Is Dead: An Anthology of Contemporary Asian American Fiction. New York: Penguin, 1993. PS647 .A75 C48

Plays: Chiquita Banana, 1972; Mango Tango, 1978; Tenement Lover: no palm trees/in new york city, 1981; Holy Food, 1988; Teenytown, with Laurie Carlos and Robbie McCauley, 1988; Contributed to The Square(play), first performed at the Joseph Papp Public Theater in New York, November, 2001.

Screenplays: Kiss Kiss Kill Kill, 1992. Fresh Kill, 1994.
Selected Bibliography 1980-Present
Cheung, King-Kok ed. Words Matter: Conversations with Asian American Writers. Honolulu: U of Hawaii P, 2000.
Lee, Rachel C. The Americas of Asian American Literature: Gendered Fictions of Nation and Transnation. Princeton: Princeton UP, 1999.
Madsen, Deborah L. ed. Asian American Writers. Detroit: Gale, 2005. (Twelbeck, Kirsten. "Jessica Hagedorn.")
Nelson, Emmanuel S. ed. Asian American Novelists: A Bio-Bibliographical Critical Sourcebook. Westport, CT: Greenwood, 2000.
Ponce, Martin J. Beyond the Nation: Diasporic Filipino Literature and Queer Reading. NY: New York UP, 2012.
Wong, Sau-ling C. and Stephen H. Sumida. A Resource Guide to Asian American Literature. NY: Modern Language Association of America, 2001.
MLA Style Citation of this Web Page
Reuben, Paul P. "Chapter 10: Jessica Hagedorn." PAL: Perspectives in American Literature- A Research and Reference Guide. URL: http://www.paulreuben.website/pal/chap10/hagedorn.html (provide page date or date of your login).

| Top |