Chapter 10: Late Twentieth Century and Postmodernism

Ernest J. Gaines
1933 -

© Paul Reuben October 21, 2016 E-Mail
Outside Links: | Jim Crow Museum | Brief Bio Note |
Page Links: | Primary Works | Selected Bibliography 1980-Present | MLA Style Citation of this Web Page |
Site Links: | Chap. 10: Index | Alphabetical List | Table Of Contents | Home Page |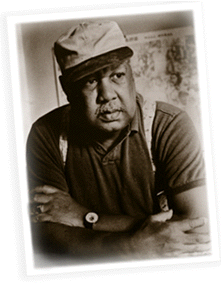 Source: Vintage Books: About the Author
Catherine Carmier, 1964; Of Love and Dust, 1967; Bloodline ("The Sky is Gray"), 1968; The Autobiography of Miss Jane Pittman, 1971; In My Father's House, 1978; A Gathering of Old Men, 1983; Of love and dust, 1994; A Lesson Before Dying, 1994; Bloodline, 1997.

The autobiography of Miss Jane Pittman. NY: Dial Press, 1971. PS3557.A355 A8

Catherine Carmier. Chatham, N.J.: Chatham Bookseller,1972. PS3557 .A355 G3

In my father's house. NY: Knopf, 1978. PS3557.A355 I5

"Miss Jane and I." Callaloo 1.3 (1978): 23-38.

A gathering of old men. NY: Knopf, 1983. PS3557 .A355 G3

Of love and dust. NY: Vintage Books, 1994. PS3557 .A355 B55

A lesson before dying. NY: Vintage Books, 1994. PS3557 .A355 L47

"Bloodline in Ink." Georgia Review 50.3 (Fall 1996): 523-32.

Bloodline. NY:Vintage Contemporaries, 1997. PS3557 .A355 B55
Selected Bibliography 1980-Present
Babb, Valerie M. Ernest Gaines. Boston: Twayne, 1991. PS3557 .A355 Z59
Beavers, Herman. Wrestling angels into song: the fictions of Ernest J. Gaines and James Alan McPherson. Philadelphia: U of Pennsylvania P, 1995. PS3557 .A355 Z594
Byerman, Keith. Remembering the Past in Contemporary African American Fiction. Chapel Hill: U of North Carolina P, 2005.
Carmean, Karen. Ernest J. Gaines: a Critical Companion. Greenwood Press. Westport, Conn. 1998.
Clark, Keith. Black Manhood in James Baldwin, Ernest J. Gaines and August Wilson. Urbana: U of Illinois P, 2002.
Doyle, Mary E. Voices from the Quarters: The Fiction of Ernest J. Gaines. Baton Rouge: Louisiana State UP, 2002.
Estes, David C. ed. Critical reflections on the fiction of Ernest J. Gaines. Athens: University of Georgia Press, 1994. PS3557 .A355 Z64
Ferris, William. The Storied South: Voices of Writers and Artists. Chapel Hill: U of North Carolina P, 2013.
Jones, Suzanne W. Race Mixing: Southern Fiction since the Sixties. Baltimore, MD: Johns Hopkins UP, 2004.
Karem, Jeff. The Romance of Authenticity: The Cultural Politics of Regional and Ethnic Literatures. Charlottesville: U of Virginia P, 2004.
Lowe, John. ed. Conversations with Ernest Gaines. Jackson: UP of Mississippi, 1995.
Thompson, Carlyle V. Black Outlaws: Race, Law, and Male Subjectivity in African American Literature and Culture. NY: Peter Lang, 2010.
| Top | Ernest Gaines: A Brief Biography

A Student Project by Ben Cortes
Ernest J. Gaines was born on January 15, 1933 in the River Lake Plantation near Oscar, Louisiana, in a small town called Pointe Coupee Parish. His parents, Manuel and Adrienne, were both sharecroppers and raised a large family of nine boys and three girls, Ernest being the oldest boy (Babb 1). They separated when he was eight, and it was then that Gaines's paraplegic aunt, Augusteen Jefferson, took care of the Ernest and siblings while his father served in World War II and his mother worked the fields (Byerman 51-52).
The River Lake Plantation and nearby town he grew up in, full of "blacks, black and white Creoles, and Cajuns, has served as the setting for all of Gaines's fiction," and it is through this "small portion of the South" that Gaines, like Faulkner's Yoknapatawpha, he creates "his mythical [city of] Bayonne." (Byerman 51) The absence of his father is also said to have later contributed to one of Ernest's major themes of "sons searching for fathers," (Babb 1) and his aunt has served as a model for the figure of "strong older woman [...who has] aided generations of struggling African Americans." (Byerman 51-52)
After World War II, Ernest's father moved to New Orleans and his mother to California to join her new husband Raphael Norbert Colar Sr. and Ernest stayed to help Aunt Augusteen with his eleven siblings (Byerman 52). In 1948 at the age of fifteen, Gaines finally moved to Vallejo, CA to be with his mother and stepfather (Babb 1). While in Vallejo, Gaines attended high school and lived in government housing where there was a diverse "mixture of races and cultures - Whites, Blacks, Chicanos, Filipinos, Japanese, and Chinese." (Babb 1-2) Although homesick, this ethnic diversity reminded him of his home town in Louisiana (Babb 2).
When Ernest and his parents moved from the projects, the new found feeling of comfort was "replaced by a feeling of isolation," as Gaines was not allowed to associate with potential friends (Babb 2). Instead, Gaines turned to the Vallejo Public Library in search of the "world he had left behind." (Babb 2) It was during these late years in high school and countless library hours that Ernest began writing about people he had grown up knowing, these people who were missing from American writing and the true American South (Byerman 52).
As Ernest continued his literary journey he attended Vallejo Junior College and served two years in the army. After his discharge from the service, Gaines attended San Francisco State College and in 1956 his first short story, "The Turtles," was published in a small magazine called Transfer. Later, while still in college Gaines wrote a story called "Comeback," which earned the Joseph Henry Jackson Award (Babb 4). Upon graduation from San Francisco in 1957, Gaines was given a Wallace Stegner Fellowship in creative writing for two years at Stanford University (Byerman 52).
Gaines published his first novel in 1964 called Catherine Carmier. Considered by many to be his most despairing, this novel's major theme of isolation is a depiction of "rural life and the tensions between generations." (Byerman 52) In the two years following Catherine Carmier, Gaines continued to work hard at his writing. In this short time he wrote four novels and many short stories of which none were published (Babb 6). Gaines received a grant from the National Endowment for Arts in 1966 and began working on what would be his second published novel, Of Love and Dust, in 1967 (Babb 6). With this novel, Gaines established his success as a writer and dealt with explosive political issues such as, the black-white relationship and racial equality in the South during the 1960s (Babb 7).
In 1968, Gaines's collection of short stories: "A Long Day in November" (1958), "The Sky is Gray" (1963), "Three Men", "Bloodline" (1968), and "Just Like a Tree" (1962), were published together as one book and titled Bloodline. Although published in 1968, many of these five stories were written earlier, and three preceded his first novel Catherine Carmier (Byerman 56). "Thematically, the stories in Bloodline are about the relationships between younger and older generations; more specifically, they usually deal with a son's heritage from his father." (Byerman 56)
In 1971, Gaines became writer-in-residence at Denison University in Granville, Ohio (Babb 8). It is here that he formed his most popular novel, The Autobiography of Miss Jane Pittman (1971). This "fictitious autobiography [...] actually serves as a cultural biography" and "casts communal history as a microcosm of [the] larger American experience." (Babb 8) The popularity of this novel became so great that CBS aired it twice as a movie in 1974. It was with this novel that Ernest Gaines secured his reputation as a significant African-American author (Babb 8).
Gaines received a Guggenheim Fellowship for the years of 1973-1974 and began writing "The House and the Field," but put it aside to write In My Father's House, which was later published in 1978 (Babb 9). This short book about "the gap between fathers and sons," gave Gaines the most trouble of any of his works due to the omniscient point of view (Babb 10).
In 1983 Gaines published A Gathering of Old Men. This story would later become another one of his novels to become popular and air as a movie in 1987 as well as receive a California Commonwealth Award for Fiction (Babb 10). Once again, Gaines returns to rural Southern America in this novel and uses his strengths as a writer, implementing a variety of narrators with white, cajun, and black voices (Byerman 62).
After A Gathering of Old Men, Gaines began teaching creative writing at Southwestern Louisiana State University in Lafayette, and divided his time between there and his second home in San Francisco (Byerman 63). In 1993 he was given a MacArthur Foundation grant, married Dianne Saulney, and published his final book, A Lesson Before Dying, which in 1994 was awarded the National Book Critics Circle Award as the best novel of 1993 (Byerman 63). This great novel of personal struggle and racial oppression is recognized as a "majestic, moving novel, [&] an instant classic, a book that will be read, discussed and taught beyond the rest of our lives." (Byerman 63)
Currently Ernest Gaines resides in Lafayette where he continues to teach his creative writing classes. He also travels to schools where he speaks with students and does readings of his stories. Over the years Gaines has gained considerable recognition including honorary doctorates from Brown University (1985), Bard College (1985), Whittier College (1986), and Louisiana State University (1987) (Byerman 63). Gaines has also received awards from the San Francisco Arts Commission (1983), the Commonwealth Club of California (1984), and the American Academy and Institute of Arts and Letters (1987).
Ernest Gaines, much like his model William Faulkner, focuses his fiction on the rural folk culture of the South with emphasis on Bayonne, Louisiana and the perspective of ordinary black residents who are often ignorant of the larger world (Byerman 52). This world he creates is multicultural and Gaines carefully renders its "complex race and class tensions" as he "explores the human meanings and implications of resistance and endurance." (Byerman 52)
Works Cited
Babb, Valerie M. Ernest Gaines. Boston MA: Twayne Publishers, 1991
Byerman, Keith E. "Ernest Gaines." Dictionary of Literary Biography: AmericanNovelists Since World War II. 4th series. Detroit: Gale, 1995. Vol. 152, 51-63.
MLA Style Citation of this Web Page
Reuben, Paul P. "Chapter 10: Ernest J. Gaines." PAL: Perspectives in American Literature- A Research and Reference Guide. URL: http://www.paulreuben.website/pal/chap10/gaines.html (provide page date or date of your login).
| Top |