Chapter 10: Late Twentieth Century and Postmodernism

Frank Chin
1940 -

© Paul Reuben October 21, 2016 E-Mail
Outside Links: | FC Papers | FC Oral History Collection | Heath Anthology: FC |
Page Links: | Primary Works | Selected Bibliography 1980-Present | MLA Style Citation of this Web Page |
Site Links: | Chap. 10: Index | Alphabetical List | Table Of Contents | Home Page |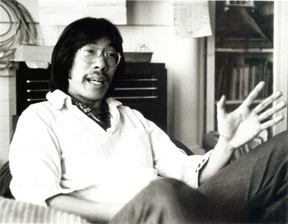 Source: 1975 Photo by Nancy Wong at CEMA
The Chickencoop Chinaman. 1972 (play)

The Year of the Dragon. 1974 (play)

Aiiieeeee! An anthology of Asian-American writers. Edited by Frank Chin [and others]. Washington: Howard UP, 1974. PS508 A8 A4

No-No Boy. with Lawson F. Inada. Seattle: Combined Asian-Amer. Resources Project (U of Washington P) 1978.

The Chickencoop Chinaman; and, The year of the Dragon: two plays. Seattle: U of Washington P, 1981. PS3553 H4897 C47

The Chinaman Pacific and Frisco R.R. Co.: short stories. Minneapolis: Coffee House P, 1988. PS3553 .H4897 C49

Donald Duk: a novel. Minneapolis: Coffee House Press; St. Paul, Minn. Distributor, Consortium Book Sales and Distribution, 1991. Juv / Fiction C539 d

Gunga Din highway: a novel. Minneapolis: Coffee House Press; St. Paul, MN: Consortium Book Sales & Distribution [distributor], 1994. PS3553 .H4897 G86

"The Most Popular Book in China." Maxine Hong Kingston's The Woman Warrior: A Casebook. Ed. Wong, Sau-ling Cynthia. NY: Oxford UP, 1999.

Born in the USA: a story of Japanese America, 1889-1947. [edited by] Frank Chin. Lanham, Md.: Rowman & Littlefield, 2002. E184 .J3 S84 2002
Selected Bibliography 1980-Present
Chua, Cheng L. "The Year of the Dragon by Frank Chin." in Wong, Sau-ling C. and Sumida, Stephen H. eds. A Resource Guide to Asian American Literature. NY: Modern Language Association of America, 2001.
Douglas, Christopher. A Genealogy of Literary Multiculturalism. Ithaca, NY: Cornell UP, 2009.
Fung, Eileen C. "'To Eat the Flesh of His Dead Mother': Hunger, Masculinity, and Nationalism in Frank Chin's Donald Duk." in Counihan, Carole M. ed. Food in the USA: A Reader. NY: Routledge, 2002.
Goshert, John C. Frank Chin. Boise: Boise State University, 2002.
- - -. "Frank Chin." in Madsen, Deborah L. ed. Asian American Writers. Detroit: Gale, 2005.
Huang, Guiyou. "Frank Chin (1940- )." in Nelson, Emmanuel S. ed. Asian American Novelists: A Bio-Bibliographical Critical Sourcebook. Westport, CT: Greenwood, 2000.
Jiang, Tsui-fen. The American Dream in African American, Asian American, and Hispanic American Drama: August Wilson, Frank Chin, and Luis Valdez. Lewiston, NY: Mellen, 2009.
Kim, Daniel Y. Writing Manhood in Black and Yellow: Ralph Ellison, Frank Chin, and the Literary Politics of Identity. Stanford: Stanford UP, 2005.
Lee, Yoon Sun. Modern Minority: Asian American Literature and Everyday Life. NY: Oxford UP, 2013.
MLA Style Citation of this Web Page
Reuben, Paul P. "Chapter 10: Frank Chin." PAL: Perspectives in American Literature- A Research and Reference Guide. URL: http://www.paulreuben.website/pal/chap10/chin.html (provide page date or date of your login).

| Top |