Chapter 10: Late Twentieth Century and Postmodernism

Amiri Baraka (LeRoi Jones)
1934-2014

© Paul Reuben October 21, 2016 E-Mail
Page Links: | Primary Works | Selected Bibliography 1980-Present | MLA Style Citation of this Web Page |
| A Brief Biography | New York Times Obituary |
Site Links: | Chap. 10: Index | Alphabetical List | Table Of Contents | Home Page |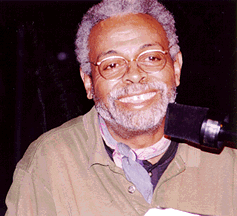 Source: EPC - AB Page
Dutchman (Obie Award);The Slave, 1964; Madheart, 1967; S-1; The Motion History; and What Was the Relationship of the Lone Ranger to the Means of Production.

Preface to a twenty volume suicide note; poems. NY:Totem P, 1961. PS3552 .A583 P7

Blues people: Negro music in white America. NY: Morrow, 1963. ML3556 .B37x

Dutchman and The slave, two plays. NY: Morrow, 1964. PS3552.A583 D8

The dead lecturer; poems. NY: Grove P 1964. PS3552 .A583 D4

The system of Dante's Hell; a novel. NY: Grove P 1965. PS3552.A583 S9

Home: Social Essays, 1966.

Tales. NY: Grove P, 1967. PS3552.A583 T3

Black music. NY: W. Morrow, 1967. ML3556 .B368x

The baptism & The toilet. NY: Grove P 1967, 1966. PS3552.A583 B3

Black fire; an anthology of Afro American writing, edited by LeRoi Jones and Larry Neal. NY: Morrow, 1968. PS508.N3 B33

Four Black revolutionary plays, all praise to the Black man. Indianapolis, Bobbs Merrill 1969. PS3552.A583 F6

Black magic: Sabotage, Target study, Black art; collected poetry, 1961-1967. Indianapolis: Bobbs Merrill 1969. PS3552 .A583 A17

It's nation time. Chicago: Third World P 1970. PS3552.A583 I8

In Our Terribleness, 1970.

Jello, 1970.

Raise, race, rays, raze: essays since 1965. NY: Random House 1971. E185.615 .B294

Spirit Reach, 1972.

Hard Facts, 1975.

The motion of history, and other plays. NY: Morrow, 1978. PS3552.A583 M6

Selected poetry of Amiri BarakaLeRoi Jones. NY: Morrow, 1979. PS3552.A583 A17

Selected plays and prose of Amiri Baraka (LeRoi Jones). NY: Morrow, 1979. PS3552.A583 A6

Confirmation, an anthology of African-American women, compiled by Amiri Baraka (LeRoi Jones) & Amina Baraka. NY: Morrow, 1983. PS508 .N3 C66

Daggers and javelins: essays, 1974-1979. NY: W. Morrow, 1984. PS3552 .A583 D3

The autobiography of LeRoi Jones/Amiri Baraka. NY: Freundlich Books: 1984. PS3552 .A583 Z463

"Diz." African American Review 29.2 (Sumr 1995): 249-52.

"Sun Ra." African American Review 29.2 (Sumr 1995): 249-52.

"The Wailer." Callaloo 8.1 (Wint 1985): 248-56.

"Black Theater in the Sixties." Belief vs. Theory in Black American Literary Criticism. Ed. Joe Weixlmann. Greenwood, FL: Penkevill, 1986.

"The Works of Henry Dumas: A New Blackness." Black American Literature Forum 22.2 (Sumr 1988): 161-63.

"Henry Dumas: Afro Surreal ExPionist." Black American Literature Forum 22.2 (Sum 1988): 164-66.

The LeRoi JonesAmiri Baraka reader. edited by William J. Harris in collaboration with Amiri Baraka. NY: NY: Thunder's Mouth P, 1991. PS3552 .A583 A6

"Cultural Revolution and the Literary Canon." Callaloo 14.1 (Wint 1991): 150-56.

Malcolm X, justice seeker. James B. Gwynne, editor. NY: Steppingstones P, 1993. E185.97 .L75 M35x

"Spike Lee at the Movies." Black American Cinema. Ed. Manthia Diawara. London: Routledge, 1993. 145-53.

Transbluesency: the selected poems of Amiri Baraka/LeRoi Jones (1961-1995). Ed. Paul Vangelisti. NY: Marsilio Publishers, 1995. PS3552 .A583 A6

Digging: The Afro-American Soul of American Classical Music. Berkeley: U of California P, 2009.
Selected Bibliography 1980-Present
Broderick, James F. Paging New Jersey: A Literary Guide to the Garden State. New Brunswick, NJ: Rutgers UP, 2003.
Brown, Lloyd W. Amiri Baraka. Boston: Twayne Publishers, 1980. PS3552.A583 Z57
Campbell, James. Syncopations: Beats, New Yorkers, and Writers in the Dark. Berkeley: U of California P, 2008.
Elam, Harry J., Jr. Taking It to the Streets: The Social Protest Theater of Luis Valdez and Amiri Baraka. Ann Arbor: U of Michigan P, 1997.
Epstein, Andrew. Beautiful Enemies: Friendship and Postwar American Poetry. NY: Oxford UP, 2006.
Grandt, Jürgen E. Kinds of Blue: The Jazz Aesthetic in African American Narrative. Columbus: Ohio State UP, 2004.
Johnson, Cedric. Revolutionaries to Race Leaders: Black Power and the Making of African American Politics. Minneapolis: U of Minnesota P, 2007.
Joyce, Joyce A. Black Studies as Human Studies: Critical Essays and Interviews. Albany: State U of New York P, 2005.
Lacey, Henry C. To raise, destroy, and create: the poetry, drama, and fiction of Imamu Amiri Baraka (Le Roi Jones). Troy, NY: Whitston Pub. Co., 1988 PS3552 .A583 Z75
Marcoux, Jean-Philippe. Jazz Griots: Music as History in the 1960s African American Poem. Lanham, MD: Lexington, 2012.
Muyumba, Walton M. The Shadow and the Act: Black Intellectual Practice, Jazz Improvisation, and Philosophical Pragmatism. Chicago: U of Chicago P, 2009.
Reilly, Charlie. ed. Conversations with Amiri Baraka. Jackson: UP of Mississippi, 1994.
Schultz, Kathy. The Afro-Modernist Epic and Literary History: Tolson, Hughes, Baraka. NY: Palgrave Macmillan, 2013.
Scott, Darieck. Extravagant Abjection: Blackness, Power, and Sexuality in the African American Literary Imagination. NY: New York UP, 2010.
Watts, Jerry G. Amiri Baraka: The Politics and Art of a Black Intellectual. NY: New York UP, 2001.
| Top | Amiri Baraka (1934 - ): A Brief Biography

A Student Project by Anna Jones
LeRoi Jones/Amiri Baraka is one of the prime movers of the revolutionary black theatre and the contemporary black arts movement. He is a playwright, author, poet, activist, critic and educator.
LeRoi Jones was born on October 7, 1934 in Newark, New Jersey to Coyette LeRoi Jones and Anna Lois Russ Jones. His father was a postal worker and his mother a social worker. Early in his life, LeRoi dreamed of becoming a minister because at that time they were the most respected leaders of the black community. In 1950 he graduated from high school at the age of fifteen. He then attended the Newark campus of Rutgers University on a science scholarship. He transferred to Howard University where he received a B.A. degree in English in 1954. When he left Howard he served in the Strategic Air Command of the U.S. Air Force from 1954-1957. When he discharged from the military as a sergeant he went to live in New York to live a bohemian life in Greenwich Village. While there he met and married a young Jewish intellectual named Hetti Roberta Cohen.She was the co-founder of an avant-garde magazine called Yugen. LeRoi helped in editing the magazine from 1958-1963. Also during this time he was involved with a lot of other activities. He gained recognition as a music critic doing articles on jazz and the blues that appeared in well established magazines. LeRoi also did graduate work in philosophy at Columbia University and also attended the New School for Social Research. From 1963 to 1965 he taught courses in contemporary poetry and creative writing at Columbia. In 1967 LeRoi was a visiting professor at San Francisco State College, where he directed a cast from the Black Arts Alliance in a performance of his morality play "Madheart."
In 1965 LeRoi was separated and later divorced from his wife. LeRoi left Greenwich Village for Harlem. He married a black woman in 1967. This move and marriage represent both a physical and a psychological journey that account for the changes in his literary work as well as his social and political activities. It was at this time that he changed his name from LeRoi Jones to Imamu Amiri Baraka. His wife, Sylvia Robinson, adopted the traditional African name of Bibi Amina Baraka.
His dramas began getting the attention he had hoped for with the production of Dutchman and The Slave in 1964. They were both concerned with social issues. Dutchman won the Obie Award for the best American play for that year and The Slave won second prize at the Dakar International Arts Festival in 1966. Baraka also received several fellowships to support his new writing, including the John Hay Whitney Fellowship (1960), the Guggenheim Fellowship(1965), and a grant from the National Endowment for the Arts (1966).
By the middle of the 1960s Baraka had achieved wide recognition for his poetry, criticism, and plays. Baraka and other members of the Black Arts Repertory Theatre/School in Harlem, felt they could use drama as a weapon against American racism. They took their work to the streets presenting playlets, poetry readings, and blues/jazz/gospel concerts, and provided practical instruction in the basic skills of reading, writing and math. Their goal in doing this was to help the people in the community increase their awareness of black cultural values, to develop ways to deal with ghetto life, and to give them pride and a positive self-image. Baraka was granted a Doctor of Letters degree from Malcom X College in 1977. Baraka is a member of the International Coordinating Committee of the Congress of Afrikan people and also a member of the Black Academy of Arts and Letters.
Baraka's career as a playwright falls into three categories: his concern with aesthetics and the universal themes of personal identity, self actualization, and appearance versus reality; his involvement with national identity and self-determination; and his move toward communism and its emphasis on economic equality.(Catherine Hurst article pg.52)
In 1974 Baraka moved toward communism. He has dismissed many of his sociopolitical ideas of the 1960s and replaced it with the view that the major problems of contemporary American society stem from economic rather than racial sources. His three plays S-1, The Motion History, and What Was the Relationship of the Lone Ranger to the Means of Production all called for blacks and whites to unite and fight.
Even if Baraka writes no more plays, he holds a permanent place in the history of American theatre. His work with the Black Arts Repertory Theatre/School helped to revolutionize black theatre in America, in providing a model for work-shop/participation and street theatre that has served aspiring drama groups throughout the United States. (Hurst article, 55)
Work Cited
Hurst, Catherine Daniels. Dictionary of Literary Biography. Twentieth Century American Dramatist. Part 1,Vol.7. Gale Research Company. Detroit, Michigan. 1981.
MLA Style Citation of this Web Page
Reuben, Paul P. "Chapter 10: Amiri Baraka." PAL: Perspectives in American Literature- A Research and Reference Guide. URL: http://www.paulreuben.website/pal/chap10/baraka.html (provide page date or date of your login).

| Top |