Chapter 3: Nineteenth Century to 1865
Romanticism

James Kirke Paulding
1778-1860

© Paul P. Reuben Octoner 16, 2016 E-Mail
Outside Link: | Famous Americans - JKP | JKP's "The End of the World" |
Page Links: Primary Works | Selected Bibliography | Study Questions | MLA Style Citation of this Web Page |
Site Links: | Chap 3: Index | Alphabetical List | Table Of Contents | Home Page |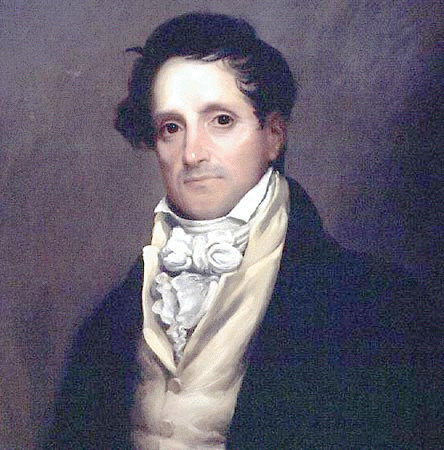 Source: Britannica - JKP
John Bull in America. Upper Saddle River, NJ: Literature House, 1970.

A life of Washington. Port Washington, NY: Kennikat Press, 1970.

1807-1808 - Salmagundi (with Washington Irving)

1812 - The Diverting History of John Bull and Brother Jonathan

1813 - The Lay of the Scottish Fiddle

1818 - The Backwoodsman

1820 - Salmagundi. Second Series

1822 - A Sketch of Old England by a New England Man

1823 - Koningsmarke, the Long Finne

1825 - John Bull in America, or the New Munchausen

1826 - The Merry Tales of the Three Wise Men of Gotham

1828 - The New Mirror for Travellers

1829 - Tales of the Good Woman, by a Doubtful Gentleman

1830 - Chronicles of the City of Gotham

1831 - The Dutchman's Fireside

1832 - Westward Ho!

1835 - Life of George Washington

1836 - View of Slavery in the United States

1837 - The Book of St. Nicholas

1838 - A Gift from Fairy Land

1846 - The Old Continental, or the Price of Liberty

1849 - The Puritan and his Daughter (Google Books)
Aderman, Ralph M. and Wayne R Kime. Advocate for America: The Life of James Kirke Paulding. Selinsgrove, PA: Susquehanna UP, 2003.
Hall, Dean G. "James Kirke Paulding." In: Kimbel, Bobby E. and Grant, William E. eds. American Short-Story Writers before 1880. Detroit, MI: Gale,1988.
Kime, Wayne R. "James Kirke Paulding." in Lujungquist, Kent P. ed. Antebellum Writers in New York. Detroit: Gale, 2002.
O'Donnell, Thomas F. "Introduction to James Kirke Paulding, The Dutchman's Fireside." in Bergmann, Frank. ed. Upstate Literature: Essays in Memory of Thomas F. O'Donnell. Syracuse: Syracuse UP, 1985.
Owens, Louis D. "James Kirke Paulding." in Rathbun, John W. and Grecu, Monica M. eds. American Literary Critics and Scholars, 1800-1850. Detroit: Gale, 1987.
Rebhorn, Matthew. Pioneer Performances: Staging the Frontier. NY: Oxford UP, 2012.
Reynolds, Larry J. James Kirke Paulding. Twayne Publishers, 1984.
MLA Style Citation of this Web Page
Reuben, Paul P. "Chapter 3: James Kirke Paulding." PAL: Perspectives in American Literature- A Research and Reference Guide. WWW URL: http://www.paulreuben.website/pal/chap3/paulding.html (provide page date or date of your login).
Top