Chapter 3: Nineteenth Century to 1865
Romanticism

Caroline Matilda Stansbury Kirkland
1801-1864

© Paul P. Reuben
October 16, 2016
E-Mail
Page Links: | Primary Works | Selected Bibliography 1980-Present | MLA Style Citation of this Web Page |
Site Links: | Chap 3: Index | Alphabetical List | Table Of Contents | Home Page |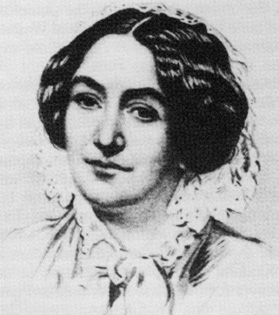 Source: Legacy Photo Gallery
A school teacher, editor, writer, and a literary critic, Kirkland was an early realist living during the high point of American romanticism. Transported to the frontier, she has realistically portrayed the life, manners, and hardships of the frontier experience in A New Home - Who'll Follow? and Forest Life.
A New Home - Who'll Follow?, 1839 (published under the psuedonym Mary Clavers); Forest Life, 1842; Western Clearings, 1845; The Evening Book, 1852; A Book for the Home Circle, 1853.
Selected Bibliography 1980-Present
Daehnke, Joel. In the Work of Their Hands Is Their Prayer: Cultural Narrative and Redemption on the American Frontiers, 1830-1930. Athens: Ohio UP, 2003.
Halverson, Cathryn. Playing House in the American West: Western Women's Life Narrative, 1839-1987. Tuscaloosa: U of Alabama P, 2013.
Kimbel, Bobby E., and William E. Grant. eds. American Short-Story Writers before 1880. Detroit: Gale, 1988.
Knight, Denise D. Writers of the American Renaissance: An A-to-Z Guide. Westport, CT: Greenwood, 2003.
Knight, Denise D., and Emmanuel S. Nelson. eds. Nineteenth-Century American Women Writers: A Bio-Bibliographical Critical Sourcebook. Westport, CT: Greenwood, 1997.
Palmer, Stephanie C. Together by Accident: American Local Color Literature and the Middle Class. Lanham, MD: Lexington, 2008.
Roberson, Susan L. ed. Women, America, and Movement: Narratives of Relocation. Columbia: U of Missouri P, 1998.
Showalter, Elaine. ed. The Vintage Book of American Women Writers. NY: Vintage, 2011.
Tchudi, Stephen. ed. Community in the American West. Reno: Nevada Humanities Committee, 1999.
Wright, Will, and Steven Kaplan. eds. The Image of the American West in Literature, the Media, and Society. Pueblo: University of Southern Colorado, 1996.
MLA Style Citation of this Web Page
Reuben, Paul P. "Chapter 3: Caroline Kirkland." PAL: Perspectives in American Literature- A Research and Reference Guide. WWW URL: http://www.paulreuben.website/pal/chap3/kirkland.html (provide page date or date of your login).

| Top |