Chapter 3: Nineteenth Century to 1865
Romanticism

Washington Irving
1783-1859

© Paul P. Reuben
October 16, 2016
E-Mail
Outside Links: About Washington Irving Heath Anthology Introduction
Page Links: Primary Works Achievements Selected Bibliography 1980-Present Study Questions MLA Style Citation of this Web Page
Site Links: | Chap 3: Index | Alphabetical List | Table Of Contents | Home Page |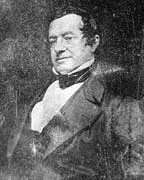 Source: Library of Congress
Salmagundi (with William Irving and James Paulding), 1808; Diedrich Knickerbocker's History of New York from the Beginning of the World to the End of the Dutch Dynasty, 1809; The Sketch Book, 1819-20, containing "Rip Van Winkle" and "The Legend of Sleepy Hollow;" Bracebridge Hall, 1822; Tales of a Traveller, 1824; The Life and Voyages of Christopher Columbus, 1828); The Conquest of Granada (1829); Voyages and Discoveries of the Companions of Columbus, 1831; The Alhambra, 1832; The Crayon Miscellany, 1835; Astoria, 1836; The Rocky Mountains, (The Adventures of Captain Bonneville), 1837; Biography of Margaret Miller Davidson, 1841; Goldsmith, Mahomet, 1850; Mahomet's Successors, 1850; Wolfert's Roost, 1855; Life of Washington, 1855.
1. Irving is the first belletrist in American literature, writing for pleasure at a time when writing was practical and for useful purposes.

2. He is the first American literary humorist.

3. He has written the first modern short stories.

4. He is the first to write history and biography as entertainment.

5. He introduced the nonfiction prose as a literary genre.

6. His use of the gothic looks forward to Poe.

(from Perkins, et. al. The American Tradition in Literature. 6th Ed. One Volume)
| Top | Selected Bibliography 1980-Present
Aderman, Ralph, ed. Critical Essays on Washington Irving. Boston: G.K. Hall, 1990. PS 2088 .C75
Anolik, Ruth B., and Douglas L. Howard. eds. The Gothic Other: Racial and Social Constructions in the Literary Imagination. Jefferson, NC: McFarland, 2004.
Antelyes, Peter. Tales of Adventurous Enterprise: Washington Irving and the Poetics of Western Expansion. NY: Columbia UP, 1990.
Blakemore, Steven. Literature, Intertextuality, and the American Revolution: From Common Sense to 'Rip Van Winkle'. Madison, NJ: Fairleigh Dickinson UP, 2012.
Bowden, Mary W. Washington Irving. Boston: Twayne, 1981. PS2088 B66
Bradley, Elizabeth L. Knickerbocker: The Myth Behind New York. New Brunswick, NJ: Rivergate, 2009.
Burstein, Andrew. The Original Knickerbocker: The Life of Washington Irving. NY: Basic, 2007.
Dowling, David. Literary Partnerships and the Marketplace: Writers and Mentors in Nineteenth-Century America. Baton Rouge: Louisiana State UP, 2012.
Jones, Brian J. Washington Irving: An American Original. NY: Arcade, 2008.
Knight, Denise D. ed. Writers of the American Renaissance: An A-to-Z Guide. Westport, CT: Greenwood, 2003.
Neider, Charles. ed. The Complete Tales of Washington Irving. Da Capo Press, 1998.
Pfitzer, Gregory M. Popular History and the Literary Marketplace, 1840-1920. Amherst: U of Massachusetts P, 2008.
Roylance, Patricia J. Eclipse of Empires: World History in Nineteenth-Century U. S. Literature and Culture. Tuscaloosa: U of Alabama P, 2013.
Rubin-Dorsky, Jeffrey. Adrift in the Old World: The Psychological Pilgrimage of Washington Irving. Univ. of Chicago Press, 1988.
Steele, Linda. The Image and Influence of the Oklahoma Prairie in Washington Irving's Tour of the West. Lewiston, NY: Mellen, 2004.
Thomson, Douglass H., Jack G. Voller, and Frederick S. Frank. eds. Gothic Writers: A Critical and Bibliographical Guide. Westport, CT: Greenwood, 2002.
| Top | Washington Irving (1783-1859): A Brief Biography
A Student Project by Laura Braley
Washington Irving, the famed essayist, biographer, historian, writer and politician, is often referred to as "The Father of American Literature" or "The Father of American Letters." He was the youngest of eleven children born to William and Sarah Irving, surname Irvine, in New York City on April 3, 1783, five days after the Revolutionary War ended. William Irving fought in the Revolutionary War under George Washington for whom Washington Irving was named. William, a Scottish merchant, married Sarah Sanders, granddaughter of an English rector, and they eventually immigrated to New York.
During his childhood, Washington Irving was spoiled by his parents and siblings. He was an uninterested student attending average schools of little or no regard. Due in part to poor health, Irving failed to follow his brothers to Columbia University. Regardless, Irving was an avid reader who "immersed himself in romance and adventure tales; in Burns, Addison, Goldsmith, Columbus, the conquest of Mexico, and in everything English and European." (Cracroft, 7) In lieu of college, he began to read at the local law office of Henry Masterson. Irving was not passionate about law and preferred writing for the papers, The Morning Chronicle and The Corrector, which his brother Peter edited. He gained his first recognition as a writer in 1802, writing under the pseudonym Johnathan Oldstyle. His series of letters called The Letters of Jonathan Oldstyle, Gent. mocking New York society were published in The Morning Chronicle. Later in life, Irving was not proud of the letters and considered his work sloppy and thoughtless.
In 1803, Irving traveled on an expedition to Montreal. During this time, he was more focused on his social life than his writing. By 1804, his health was threatened by tuberculosis and his brothers decided to send him overseas to live in Rome. He stayed in Europe for two years and a friend nearly convinced him to become a painter. However, in 1806, he returned to New York, passed the bar examination and was admitted to the bar. He went on to practice law for a short time until 1810, but had more social grace than knowledge of law. In 1807, Irving, along with his brother William and other friends began the satirical journal, Salmagundi. It was written for a New York audience, and it mocked that audience, generally, while it specifically mocked well-known men and women of New York society (Bowden, 20). He also wrote essays revealing his Federalist views. Despite the journal's popularity the venture was ultimately unprofitable and abandoned in 1808.
Irving's next recognition came from another satirical piece, The History of New York from the Beginning of the World to the End of the Dutch Dynasty. (1809). This book was a humorous parody developing into a tale about Dutch colonization in which Irving gave a deliberately inaccurate account of New York's past from the perspective of the fictional Diedrich Knickerbocker (Bylington, 217). This lighthearted work's success was quickly overshadowed, however, by the personal grief suffered from the death of Irving's fiancée, Matilda Hoffman.
After Hoffman's death, Irving thrust himself into whatever work was placed in front of him. In 1810, he edited for poet Thomas Campbell and contributed to Campbell's work by writing Campbell's biography for the collection. Unfortunately, this same year his father died as well. Irving worked for Governor Daniel Tompkins as an aide de camp in 1812. He was a silent partner in his brother's mercantile firm and also helped out at the family hardware business. His friendship with Dolly Madison, the president's wife, kept him involved in politics. During 1813 and 1814, Irving edited a magazine, Analectic, in Philadelphia.
Irving's brothers sent him to Liverpool in 1815 to run a subdivision of their import/export firm located there. During this time, in 1817, Irving's mother passed away. The business eventually went bankrupt in 1818, but Irving remained in Europe. He turned down an opportunity to serve in an elevated position for the U.S. Navy. He chose to write to support himself and began compiling his thoughts in a small journal. He worked at perfecting these short pieces and made connections that encouraged and inspired his writings. One of these influences was Sir Walter Scott, who interested him in German Literature and Romantic History. These works were published in 1819-1820 as The Sketch Book of Geoffrey Crayon, Gent. Stories from this collection, such as "Rip Van Winkle" and "The Legend of Sleepy Hollow," presented a fine example of Irving's craft. Most critics agree that these stories served as models for the modern American short story and that both tales introduced imagery and archetypes that enriched the national literature (Bylington, 217). He was the first author to produce a piece of American literature that was popular with audiences abroad. A sequel to this work called Bracebridge Hall (1822) was published within the next couple of years.
| Top | Beginning in 1821, Irving spent one year in Paris and in 1822 went to Dresden, Germany for the Winter. Over these years, he worked on several anonymous farces with John Howard Payne, but little else. He courted two women over the course of these two years, Mary Shelley and Emily Foster. The latter he asked to marry, but they were never wed. Irving would remain a bachelor for the rest of his life. In 1824, Irving compiled the less popular Tales from the Traveler. As a member of U.S. Embassy American Diplomatic Corps, Irving traveled to Madrid in 1826. While he was in Madrid, he translated Navarette's Columbus, and did extensive research for A History of Life and Voyages of Christopher Columbus (1828). This was considered the greatest of his historical and biographical works and established Irving in these new genres. On another trip to Spain, Irving produced two additional works, Conquest of Granada (1829) and a Spanish sketchbook, Alhambra (1832).
Irving was asked to return to London in 1829 to serve as the Secretary of the United States Legation. He was influenced by Martin Van Buren and Louis McLane, two prominent Democrats, and his alliances were changed from Federalist to Democrat. Irving was honored in England through a medal from the Royal Society of Literature and given an LLD degree from Oxford University.
After seventeen years abroad, in 1832, Irving returned to America and was given a hero's welcome. Leaders of the Democratic Party, including President Andrew Jackson, sought Irving's company. Shortly after his return, Irving went to an expedition to the Western territories and visited the Osage and Pawnee Indian tribes, reawakening his earlier interest in the developing American Frontier. His works produced during this time had a Western flair and American themes. In 1835, the successful A Tour of the Prairies was published followed by Astoria (1836) also known as Anecdotes of an Enterprise Beyond the Rocky Mountains. Shortly after this publication, Adventures of Captain Bonneville, USA, in the Rocky Mountains and the Far West (1837) was inspired by the Captain's journal. In 1838, he began to work on the history of the conquest of Mexico and stopped working on the project when he found out another author was already writing on the same topic.
When Irving returned from overseas, he chose to settle near Tarrytown and purchased an estate called Sunnyside. He lived here with two of his brothers and several of his nieces. He forged a friendship with John Astor and was influenced to become a founder of the Astor Library known today as the New York Public Library. Irving also signed on to make monthly contributions to the Knickerbocker Magazine. He continued to work on new pieces like Oliver Goldsmith (1840) and The Biography of Margaret Miller Davidson (1841-1842). Irving denied a number of political positions including the New York City Mayor, a Congressional seat, and Secretary of the Navy.
| Top | By 1842, Irving accepted a position as the minister to Spain and remained the minister until 1845. The Spanish Insurrection occurred during his tenure and the political unrest kept him busy and away from his work as a writer. In 1845, his presence was requested in London as a representative for the United States to settle the issues regarding Oregon and the boundaries between the United States and Canada. By the end of 1846, Irving was able to return to Sunnyside and continue working on his biographies and other works like A Book of the Hudson (1849), a two volume work. He also published Life of Mahomet (1849), Wofert's Root (1855), and his most elaborate work, The Life of Washington (1855-1859), was published in five volumes. Eight months after completing the final volume at age seventy-six, Washington Irving succumbed to a heart attack and died on November 28, 1859. His funeral was attended by a great number of his admirers and his presence is still recognized in literature today.
While Irving's popularity and approval by his contemporaries was overwhelming, he has been received with mixed enthusiasm over the past two centuries. Modern literary criticism has predominantly explored gender issues, the relationship between his personal identity and the burgeoning national identity, and the fluctuations in the quality of his writing (Bylington 217). Many critics have classified Irving's work as anti-feminist. Some argue that "The Legend of Sleepy Hollow" reveals Irving's fear of male disempowerment, while others explain that it is a gothic tale which affirms the importance of marriage over the destructive power of the forest. There are also differing opinions on the importance of a national identity in Irving's writings. Many believe that Irving recognized the potential of American writing to help establish the identity of Americans and sought to establish an American hero, but others contend that his writings show reservations about the emerging American system and include too many European analogies to reflect a true American Nationalism (217). Scholars also debate the overall quality of his work. While some pieces are considered exceptional, some of Irving's writings are considered to be of a lesser quality and not on the same level.
When an author emerges and makes the impact that Irving did on the relatively new canvas that America was at the time, he will forever be revisited and be the object of new criticism. The fact that Irving still receives significant attention shows his importance in the American writing tradition. Even though there is ongoing debate, Irving's accomplishments as being the first American author accepted abroad, establishing the American short story genre, and his work as a biographer and historian are undisputed and secure Irving as a permanent fixture in American Literature.
Works Cited
Bowden, Mary. Washington Irving. Boston: Twayne Publishers, 1981.
Bylington, Juliet. Introduction. Nineteenth Century Literature Criticism. Michigan: Gale Group, 2001:98, 216-303.
Cracroft, Richard. Washington Irving: The Western Works. Boise: Boise State University, 1974.
Harris, Laurie. Nineteenth Century Literature Criticism. Michigan: Gale Group, 1982:2, 136-171.
Kunitz, Stanley. American Authors 1600-1900: A Biographical Dictionary. New York: H.W. Wilson Company, 1938.
Myers, Andrew. Washington Irving: A Tribute. New York: Aristographics Inc., 1972.
1. Compare and contrast Freneau's and Irving's uses of the historical situation as the subject of imaginative literature. What makes Irving more successful, and why is he more successful?
2. Discuss several different ways in which "Rip Van Winkle" addresses versions of the American dream.
3. Compare Rip Van Winkle with Franklin's Father Abraham in The Way to Wealth. What do the two have in common?
4. 'Rip Van Winkle" is an early work that casts the American woman as the cultural villain. Analyze the character of Dame Van Winkle in the story and discuss the significance Irving attributes to her death.
5. Although Irving's 'Rip Van Winkle" and "The Legend of Sleepy Hollow" may make it appear that Irving wrote primarily fiction, a reading of the longer Sketch-Book, in which these stories first appeared, makes it clear that for Irving himself writing the literary sketch both preceded and made it possible for him to write works we now consider stories. For an out-of-class essay, read The Sketch-Book and write an essay in which you describe the various literary genres that Irving uses in the book. Then focus on either 'Rip Van Winkle" or "The Legend of Sleepy Hollow" and explore both what the story's form shares with the other works in The Sketch-Book and how it deviates from them. Speculate on what, in either story, makes it possible for Irving to cross over into fiction.
MLA Style Citation of this Web Page
Reuben, Paul P. "Chapter 3: Washington Irving." PAL: Perspectives in American Literature- A Research and Reference Guide. WWW URL: http://www.paulreuben.website/pal/chap3/irving.html (provide page date or date of your login).