Chapter 3: Nineteenth Century to 1865
Romanticism

Caroline Lee Hentz
1800-1856

© Paul P. Reuben
October 16, 2016
E-Mail
Outside Links: | Documenting the American South - CLH | Heath Anthology Introduction |
Page Links: | Primary Works | Selected Bibliography | MLA Style Citation of this Web Page |
Site Links: | Chap 3: Index | Alphabetical List | Table Of Contents | Home Page |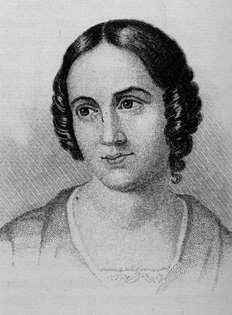 Source: Legacy Photo
Lovell's Folly, 1833; De Lara, or, The Moorish Bride, 1843; Aunt Patty's Scrap-bag, 1846; Linda, or, The Young Pilot of the Belle Creole, 1850; Rena, or, The Snow Bird, 1851; Eoline, 1852; Ugly Effie, or, the Neglected One and the Pet Beauty, 1852; Marcus Warland, 1852; The Planter's Northern Bride, 1854; The Banished Son, 1856; Courtship and Marriage, 1856; Ernest Linwood, 1856; The Lost Daughter, 1857.
Knight, Denise D. Writers of the American Renaissance: An A-to-Z Guide. Westport, CT: Greenwood, 2003.
Knight, Denise D., and Emmanuel S. Nelson. eds. Nineteenth-Century American Women Writers: A Bio-Bibliographical Critical Sourcebook. Westport, CT: Greenwood, 1997.
Manning, Carol S. ed. The Female Tradition in Southern Literature. Urbana: U of Illinois P, 1993.
Perry, Carolyn, and Mary L. Weaks. eds. The History of Southern Women's Literature. Baton Rouge: Louisiana State UP, 2002.
Singley, Carol J., and Susan E. Sweeney. eds. Anxious Power: Reading, Writing, and Ambivalence in Narrative by Women. Albany: State U of New York P, 1993.
Van Dette, Emily E. Sibling Romance in American Fiction, 1835-1900. NY: Palgrave Macmillan, 2013.
MLA Style Citation of this Web Page
Reuben, Paul P. "Chapter 3: Caroline Lee Hentz." PAL: Perspectives in American Literature- A Research and Reference Guide. WWW URL: http://www.paulreuben.website/pal/chap3/hentz.html (provide page date or your date of logon).

| Top |