Chapter 2: Early American Literature 1700-1800

John Woolman
1720-1772

© Paul P. Reuben
October 15, 2016
E-Mail
Page Links: | Primary Works | Contributions of John Woolman | The Inner Light | The Quaker Journal | Selected Bibliography 1980-Present | Study Questions | MLA Style Citation of this Web Page |
Site Links: | Chap 2 - Index | Alphabetical List | Table Of Contents | Home Page |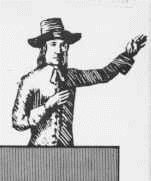 Source: Quakers
The works of John Woolman. NY: Garrett Press, 1970. BX7617 .W6

The journal and major essays of John Woolman. Ed. Phillips P. Moulton. NY: Oxford UP, 1971. BX7795.W7 A3 1971b

Journal. Ed. Thomas S. Kepler. Cleveland: World Pub. Co. 1954. BX7795.W7 A3

The Journal of John Woolman and A Plea for the Poor. Tolles, Frederick B. (ed.). NY: Corinth, 1961.
Contributions of John Woolman (from Rosenblatt, Paul. John Woolman. NY: Twayne, 1969.)
1. Sought to abolish slavery.

2. Tried to achieve a fair treatment of Indians.

3. Tried to vitalize Quaker pacifism.

4. Tried to return Friends to the experience of the Inner Light.

5. Tried to free people from material cravings.
The Inner Light of the Quakers is the belief that God is present (immanent) in the human heart. This belief became the main doctrine of the Quaker leader George Fox.
This is different from Jonathan Edwards' Divine & Supernatural Light which was made available by God to certain chosen people.
"The Edwardian divine light was a supplementary sense added to man's natural sense by Divine Grace, as a formulation of man's idea of divinity. The Quaker inner light was a specific and direct guidance from God to prompt man to particular actions in any situation, and therefore a foundation of man's humanity." (Joseph Blau, Men & Movements in American Philosophy, 1952)
"I have often felt a motion of Love to leave some hints of my experience of the Goodness of God." - John Woolman
The Quaker journal, like that of the Puritans, is a special form of autobiography. It records God's presence in temporal events and phenomena. The Puritan journal, however, was introspective and led to self examination (Am I saved?); the Quaker one was written for publication. It had a strong social emphasis in its concern with successful living.
The Form of the Quaker Journal
Divine revelations in childhood
Compunction (regret, uneasiness) over youthful frivolity
Period of search and conflict
Convincement
Conversion
Seasons of discouragement
Entrance in the ministry
Adoption of plain dress, plain speech, and simple living
Curtailment of business
Advocacy of social reform
Few journals contain all these stages, and many may contain only a few of them. Woolman's autobiography is a classic record of all the stages.
Jonathan Edwards offered mysticism and heaven
Ben Franklin offered a pattern of utilitarian living
John Woolman offered mystical insight and compassionate humanism
Selected Bibliography 1980-Present
Elliot, Emory. ed. American Colonial Writers 1735-1781. Detroit: Gale, 1984.
Moment, Gairdner B., and Otto F. Kraushaar. Utopias: The American Experience. Metuchen, NJ: Scarecrow, 1980.
1. Compare the specific imagery of The Journal with that of Jonathan Edwards's Personal Narrative, with the goal of demonstrating differences between Woolman's religious beliefs and worldview and those of the Puritans.
2. Compare and contrast Woolman's Journal with Ashbridge's Some Account. What can we infer about Quaker life in the colonies from these two writers? To what extent are differences in their narratives attributable to gender?
3. (a) Would Woolman feel that his life and ministry made a difference to the world of today? (b) How would he feel about today's world? About social injustice in third world countries? About our response as individuals and as Americans to poverty and social injustice in other lands?
MLA Style Citation of this Web Page
Reuben, Paul P. "Chapter 2: John Woolman." PAL: Perspectives in American Literature- A Research and Reference Guide. URL: WWW URL: http://www.paulreuben.website/pal/chap2/woolman.html (provide page date or date of your login).

| Top |