Chapter 2: Early American Literature 1700-1800

Mercy Otis Warren
1728-1814

© Paul P. Reuben October 15, 2016 E-Mail
Page Links: | Primary Works | Selected Bibliography 1980-Present | MLA Style Citation of this Web Page |
Site Links: | Chap 2 - Index | Alphabetical List | Table Of Contents | Home Page |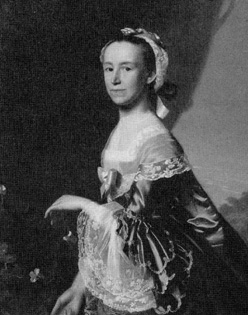 Source: Legacy Photo
The Adulateur, 1773; The Defeat, 1773; The Group, 1775; Poems, Dramatic and Miscellaneous, 1790; History of the Rise, Progress, and Termination of the American Revolution, 1805.

Lee, Richard Henry, 1732-1794 and Warren, Mercy Otis, 1728-1814. An additional number of letters from the Federal farmer to the Republican leading to a fair examination of the system of government, proposed by the late Convention; to several essential and necessary alterations in it; and calculated to illustrated and support the principles and positions laid down in the preceding letters. Together with Observations on the new Constitution, and on the Federal and State Conventions by a Columbian patriot. Chicago: Quadrangle Books, 1962. JK146 .L4

Mercy Otis Warren: Selected Letters. Richards, Jeffrey H. ed. Athens: U of Georgia P, 2009.
Selected Bibliography 1980-Present
Derounian-Stodola, Kathryn Z. ed. Early American Literature and Culture: Essays Honoring Harrison T. Meserole. Newark: U of Delaware P, 1992.
Doyle, Laura. Freedom's Empire: Race and the Rise of the Novel in Atlantic Modernity, 1640-1940. Durham, NC: Duke UP, 2008.
Dykeman, Therese B. Contributions by Women to Early American Philosophy: Anne Bradstreet, Mercy Otis Warren, and Judith Sargent Murray. Lewiston, NY: Mellen, 2009.
Franklin. Benjamin V. ed. The Plays and Poems of Mercy Otis Warren. Delmar, NY: Scholars' Facsims. & Rpts., 1980.
Mulford, Carla, and others. eds. American Women Prose Writers to 1820. Detroit: Gale, 1999.
Nicolay, Theresa F. Gender Roles, Literary Authority, and Three American Women Writers: Anne Dudley Bradstreet, Mercy Otis Warren, Margaret Fuller Ossoli. NY: Peter Lang, 1995.
Richards, Jeffrey H. Mercy Otis Warren. NY: Twayne, 1995. PS858 .W8 Z88
Schlueter, June. ed. Modern American Drama: The Female Canon. Rutherford: Fairleigh Dickinson UP, 1990.
Schofield, Mary A., and Cecilia Macheski. eds. Curtain Calls: British and American Women and the Theater, 1660-1820. Athens: Ohio UP, 1991.
Stuart, Nancy R. The Muse of the Revolution: The Secret Pen of Mercy Otis Warren and the Founding of a Nation. Boston: Beacon, 2008.
MLA Style Citation of this Web Page
Reuben, Paul P. "Chapter 2: Mercy Otis Warren." PAL: Perspectives in American Literature- A Research and Reference Guide. URL: http://www.paulreuben.website/pal/chap2/warren.html (provide page date or date of your login).
| Top |