Chapter 2: Early American Literature 1700-1800

Royall Tyler
1757-1826

© Paul P. Reuben October 15, 2016 E-Mail
Page Links: | Primary Works | Selected Bibliography 1980-Present | MLA Style Citation of this Web Page |
Site Links: | Chap 2 - Index | Alphabetical List | Table Of Contents | Home Page |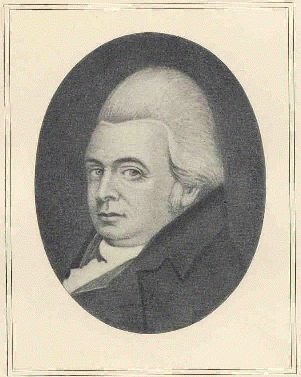 Source: Royall Tyler
Famous as the writer of the first American play to be professionally performed, Tyler was also lawyer, a professor, and a Chief Justice of the Vermont Supreme Court.
The contrast; a comedy. (1787) With an introd. by Thomas J. McKee. NY: B. Franklin, 1970. PS855.T7 C6

The Algerine Captive (novel), 1797.

The Yankey in London (travel book), 1809.

Four Plays ("The Island of Barrataria," "The Origin of the Feast of Purim," "Joseph and His Brethren," and "The Judgement of Solomon." Eds. A. W. Peach and G. F. Newbrough, 1941.

The Verse of Royall Tyler. Collected and edited by Marius B. Peladeau. Charlottesville: UP of Virginia, 1968. PS855.T7 A6
Selected Bibliography 1980-Present
Elliott, Emory. American Writers of the Early Republic. Detroit: Gale, 1985.
Kierner, Cynthia A. ed. The Contrast: Manners, Morals, and Authority in the Early American Republic. NY: New York UP, 2007.
Meserve, Walter J. ed. On stage, America!: a selection of distinctly American plays. NY: Feedback Theatrebooks & Prospero Press, 1996. PS625 .O5 1996
(CONTENTS:The contrast / by Royall Tyler -- Metamora / by John Augustus Stone -- The stage-struck Yankee / by Oliver Everett Durivage-- Fashion / by Anna Cora Benjamin A. Baker -- Rip Van Winkle / as acted by Joseph Jefferson -- Under the gaslight / by Augustin Daly -- Young Mrs. Winthrop / by Bronson Howard -- The old homestead / by Denman Thompson -- Margaret Fleming / by James A. Herne -- A trip to Chinatown / by Charles H. Hoyt -- The girl of the golden West / by David Belasco.)
Schöpp, Joseph C. "Liberty's Sons and Daughters: Susanna Haswell Rowson's and Royall Tyler's Algerine Captives." in Schmidt, Klaus H., and Fritz Fleischman. eds. Early America Re-Explored: New Readings in Colonial, Early National, and Antebellum Culture. NY: Peter Lang, 2000.
MLA Style Citation of this Web Page
Reuben, Paul P. "Chapter 2: Royall Tyler." PAL: Perspectives in American Literature- A Research and Reference Guide. URL: http://www.paulreuben.website/pal/chap2/tyler.html (provide page date or date of your login).

| Top |