Chapter 2: Early American Literature 1700-1800

Olaudah Equiano
1745-1797

© Paul P. Reuben October 15, 2016 E-Mail
Page Links: | Primary Works | Selected BibliographY 1980-Present | Study Questions | MLA Style Citation of this Web Page |
Site Links: | Chap 2 - Index | Alphabetical List | Table Of Contents | Home Page |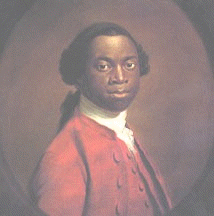 Source: Olaudah Equiano
Among the tradition of slave narratives, Equiano's is considered a remarkable achievement since the autobiographical style was not a well-developed genre in the eighteenth century. His narrative has vivid and concrete details and is written in the picaresque style. Equiano also provides a detailed account of the his kidnapping, his trek through the jungles, his arrival at the sea coast, and the arduous crossing of the Atlantic in the belly of a slave ship.
The Interesting Narrative of the Life of Olaudah Equiano, or Gustavus Vassa, the African, Written by Himself, 1789 (E-Text); Equiano's Travels: His Autobiography, ed. Paul Edwards, 1967.

The life of Olaudah Equiano, or Gustavus Vassa, the African. Written by himself. NY: Negro UP, 1969. HT869.E6 A3

The Classic slave narratives. Edited and with an introduction by Henry Louis Gates, Jr. NY: New American Library, 1987. E444 .C63
Selected Bibliography 1980-Present
Carretta, Vincent. Surprising Narrative: Olaudah Equiano and the Beginnings of Black Autobiography. Westport, Conn: Greenwood Press, 1987.
- - -. ed. Olaudah: The Interesting Narrative and Other Writings. NY: Penguin Books, 1995.
- - -. Equiano the African: Biography of a Self-Made Man. Athens: U of Georgia P, 2005.
Elmer, Jonathan. On Lingering and Being Last: Race and Sovereignty in the New World. NY: Fordham UP, 2008.
Elrod, Eileen R. Piety and Dissent: Race, Gender, and Biblical Rhetoric in Early American Autobiography. Amherst: U of Massachusetts P, 2008.
Finseth, Ian F. Shades of Green: Visions of Nature in the Literature of American Slavery. Athens: U of Georgia P, 2009.
Jennings, Willie J. The Christian Imagination: Theology and the Origins of Race. New Haven, CT: Yale UP, 2010.
M'Baye, Babacar. The Trickster Comes West: Pan-African Influence in Early Black Diasporan Narratives. Jackson: UP of Mississippi, 2009.
Nelson, Emmanuel S. ed. African American Autobiographers: A Sourcebook. Westport, CT: Greenwood, 2002.
| Top |Olaudah Equiano (1745-1797): A Brief Biography
A Student Project by Allison Lindstrom
Olaudah Equiano was born in the Essaka region, northeast of the Niger River, in the interior of Nigeria. In 1756, he and his sister were kidnapped by local raiders. Equiano was just eleven. He was carried west and south across a large river by tribal Africans who spoke a different language. Equiano was brought to the coast and sold to British slavers sailing to the American continent. The conditions aboard the slave ships that brought the slaves to the New World were inhumane. In his biography Equiano describes the conditions; "...the heat of the climate added to the number in the ship which was so crowded that each had scarcely room to turn himself, almost suffocating us." (Samuels, 125)
Later when the slave ships reached the West Indies to disperse the slaves, and when the still unsold Equiano reached Virginia, he witnessed other atrocities including rapes and mutilation. Some were branded, loaded with chains, and one was "beaten until some of his bones were broken, for only letting a pot boil over." (Samuels, 125)
Equiano's experiences would mostly be those of an indulgently treated African servant. Even in Africa, his first masters bought him more for companionship than labor. In Virginia, Equiano was bought by one Mr. Campbell. Campbell was Equiano's only New World master to put him in the fields. This manual labor was short lived; Campbell sold Equiano to Michael Henry Pascal, a former lieutenant in the Royal Navy, who commanded a merchant ship. Pascal purchased Equiano as a "present to some friends in England." (Samuels, 125)
Pascal renamed Equiano Gustavus Vassa, after the 16th century Swedish king. Equiano's life en route to England aboard Pascal's Industrious Bee was eased by the friendship he established with Richard Baker, a teenage American sailor. Baker served as his companion and tutor, teaching Equiano acculturation into Western civilization. After landing in England, Pascal took Equiano to Falmouth where the servants of the master with whom Equiano boarded waited on him as one of the family. The family's kind treatment led Equiano to become confused about his role and he attempted to change his color by washing his face repeatedly until his cheeks were rosy like his white playmate's. After spending two years at sea with Pascal, Equiano was sent to wait on Pascal's cousins, the Guerin sisters. The sisters encouraged his development by sending him to school for a formal education and by having him baptized they saw to his spiritual well-being. But Pascal who was serving during the Seven Years War took Equiano to sea again. Pascal was assigned as captain of the Namur and Equiano served with him. By the age of fourteen, and after three years in and around England, Equiano was relatively comfortable in his situation. Through his participation in maritime experiences, British life, and attaining strong friendships, gave Equiano a competence in the language and culture. This led Equiano to conclude that Pascal did not have the right to hold him in bondage. Determined that Equiano should stay enslaved Pascal sold him to Captain Doran. Doran took Equiano to Montserrat in the West Indies where he was sold to Robert King, a Philadelphia merchant. During this time Equiano was "filled with thoughts of freedom" and using his entrepreneurial skills, he attained the forty pounds necessary to purchase his freedom from King. (Samuels, 127)
On July 11, 1766 Equiano purchased his papers of manumission, and as a free man he continued his travels in the West Indies and America. He returned to America sailing under William Phillips, captain of a merchant ship whose cargo included slaves. While with Phillips , Equiano returned to Savannah where he was nearly taken into slavery for breaking a curfew for blacks. A few days later he was almost kidnapped by two white men he met on a road. Equiano soon returned to England. In England he dedicated himself to a rigorous program of self-improvement which included being trained and employed as a hairdresser and being taught the French horn and arithmetic. Equiano worked for a time for Dr. Charles Irving, a scientist whose experiments with the purification of salt water were widely known. Equiano later traveled to Italy, Turkey, Portugal and the Mediterranean where he studied architecture, attended the Grand Opera, visited churches, and savored the finest foods and wines that he could find. Equiano joined Dr. Irving once again in 1773. This time he sailed with Irving's expedition to the Arctic in quest of a passage to India. His seafaring life eventually returned him to America, specifically to New York and Pennsylvania, where he met with black leaders, and explored the diverse denominational practices of several religious sects and eventually became a Methodist. Returning finally to London, Equiano was appointed commissary for Stores for the Black Poor, an emigrationist group that aimed at returning blacks to Africa. By the time his autobiography appeared in 1789, Equiano was deeply involved in the abolitionist movement of England. He married Susanna Cullen of Ely in Cambridgeshire on in April 1792. They had two daughters Ann Marie and Johanna. Two dates are given for Equiano's death; March 31, 1797 and 1801.
The slave narrative, a genre which can be dated from the early 17th century, is associated primarily with the biographical and autobiographical sketches of "former North American bondsmen and bondswomen of African descent."(Samuels, 123) The Interesting Narrative of the Life of Olaudah Equiano, or Gustavus Vassa, the African, by Olaudah Equiano, is the "most remarkable of the 18th century"(123) books by black writers. "At the time it was published in 1789, few books had been produced in America which afford such a vivid, concrete, and picaresque narrative."(123) What is significant about the autobiographical form of Equiano's slave narrative is that autobiography as a genre, was young during the 18th century and had not achieved stature as a literary form. The popularity of Equiano's narrative was due to its spiritual elements and reader interest in the private lives of public figures. The Interesting Narrative of the Life of Olaudah Equiano is considered by some to be the most successful prose work written by an African in the Western World until the start of the American Civil War.
Works Cited
Kennerly, K. The Slave Who Bought His Freedom; Equiano's Story. NY: Dutton, 1971
O'Neale, Sondra. Dictionary of Literary Biographies. Vol. 37, Gale Research Company.1984
Samuels, D. Wilfred. Dictionary of Literary Biographies. Vol.50, Gale Research Company. 1984
1. What kind of picture does Equiano paint of his African slave experiences as opposed to his later encounters with slavery in the Western world?
2. Examine those points of resemblance between Elizabeth Ashbridge's Some Account and Olaudah Equiano's Narrative. What does Ashbridge confirm about the horrors of servitude? What does Equiano tell us about the role the Quakers played in the struggle for human freedom?
3. Reread the early chapters of Bradford's Of Plymouth Plantation and contrast the portrait of life aboard the Mayflower with Equiano's account of life aboard the slave ship. Consider the various meanings different colonial authors attribute to the word removal.
MLA Style Citation of this Web Page
Reuben, Paul P. "Chapter 2: Olaudah Equiano." PAL: Perspectives in American Literature- A Research and Reference Guide. URL: http://www.paulreuben.website/pal/chap2/equiano.html (provide page date or your date of login).

| Top |