Chapter 2: Early American Literature 1700-1800

Hugh Henry Brackenridge
1748-1816

© Paul P. Reuben October 15, 2016 E-Mail
Page Links: | Primary Works | Selected Bibliography | MLA Style Citation of this Web Page |
Site Links: | Chap 2 - Index | Alphabetical List | Table Of Contents | Home Page |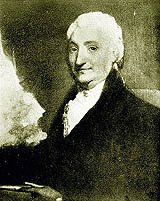 Source: Pittsburgh Post-Gazette
Hugh Henry Brackenridge (1749-1816) was an American lawyer and writer. His reputation as a writer rests almost entirely on "Modern Chivalry, " a novel in which he humorously reveals the confusion and controversy that characterized the early years of the American Republic.
- encyclopedia.com
Father Bombo's pilgrimage to Mecca, 1770. Princeton University Library, 1975.

A Hugh Henry Brackenridge reader, 1770-1815. University of Pittsburgh Press, 1970.

The Battle of Bunker Hill, 1776. (Project Gutenberg)

The Death of General Montgomery at the Siege of Quebec, 1777.

Modern Chivalry, 1815.

Essays on the Constitution of the United States, published during its discussion by the people, 1787-1788. Ford, Paul L. Brooklyn, NY: Historical Printing Club, 1892.

Modern chivalry. NY: Hafner Pub. Co., 1962 [c1937] (e-text).

Incidents of the Insurrection in the Western Parts of Pennsylvania, 1795.

Modern Chivalry. Edited and Introduced by Ed White. Hackett Publishing, 2009.
Kelleher, James. "Hugh Henry Brackenridge." in Elliott, Emory. ed. American Writers of the Early Republic. Detroit: Gale, 1985.
Leary, Lewis. ed. Modern Chivalry: Containing the Adventures of Captain John Farrago and Teague O'Reagan, His Servant. Lanham, MD: Rowman & Littlefield, 2003.
Marder, Daniel. Hugh Henry Brackenridge. NY: Twayne Publishers, 1967.
McIntire-Strasburg, Janice. "Modern Chivalry and the Case for Electronic Texts." in Blakesley, David and others. eds. Digital Publishing F5/Refreshed. West Lafayette, IN: Parlor, 2003.
Newlin, Claude M. The Life and Writings of Hugh Henry Brackenridge. Princeton: Princeton UP, 1932.
Otter, Samuel. Philadelphia Stories: America's Literature of Race and Freedom. NY: Oxford UP, 2010.
Schultz, Lucille M. "Hugh Henry Brackenridge." in Trachtenberg, Stanley. ed. American Humorists, 1800-1950: Part 1: A-L. Detroit: Gale, 1982.
Unrue, Darlene H. "Brackenridge's Modern Chivalry: A Reassessment." in Hartigan, Francis X. ed. History and Humanities: Essays in Honor of Wilbur S. Shepperson. Reno: U of Nevada P, 1989.
MLA Style Citation of this Web Page
Reuben, Paul P. "Chapter 2: Hugh Henry Brackenridge (1748-1816)." PAL: Perspectives in American Literature- A Research and Reference Guide. URL: http://www.paulreuben.website/pal/chap2/brackenridge.html (provide page date or date of your login).
| Top |